TWIPLA
The All-in-One Web Analytics App. 🔓 GDPR & CCPA Ready.
About TWIPLA
TWIPLA (formerly Visitor Analytics) provides all website owners with three categories of insights - 𝘄𝗲𝗯𝘀𝗶𝘁𝗲 𝘀𝘁𝗮𝘁𝗶𝘀𝘁𝗶𝗰𝘀, 𝘃𝗶𝘀𝗶𝘁𝗼𝗿 𝗯𝗲𝗵𝗮𝘃𝗶𝗼𝗿 𝗮𝗻𝗮𝗹𝘆𝘁𝗶𝗰𝘀, 𝗮𝗻𝗱 𝘃𝗶𝘀𝗶𝘁𝗼𝗿 𝗰𝗼𝗺𝗺𝘂𝗻𝗶𝗰𝗮𝘁𝗶𝗼𝗻 - so that you can see the complete picture of what is and isn't working on your website.
With TWIPLA, everything is just a click away:
◾ Advanced website traffic stats (NEW! Company Reveal)
◾ Marketing campaigns tracking
◾ Heatmaps
◾ Session recordings
◾ Conversion funnels
◾ Polls
◾ Surveys
◾ Competition traffic analysis
◾ Privacy-first analytics by design (NEW! Custom Country Data)
✔️ Use the voucher code UNLIMITED30 (https://app.visitor-analytics.io/register?voucher=UNLIMITED30) to get 30 days of full access without limits (including Company Reveal) - No Credit Card needed!
KEY FEATURES
𝗪𝗲𝗯𝘀𝗶𝘁𝗲 𝗦𝘁𝗮𝘁𝗶𝘀𝘁𝗶𝗰𝘀
◾ Traffic Structure
See how much of your traffic is direct or reaching your website via email, social media, organic search, or referrals.
◾ Visitors
You get visited pages over time, approximate geolocation( approximate for privacy purposes), the time spent on each page, and many others.
◾ Pages
You should know what type of content your visitors prefer, where they land, and where they exit the website.
◾ Devices
Check out your visitor's device type, operating systems, browsers & screen-resolutions usage.
◾ Campaigns
Add UTM campaigns to better track your conversions and start researching exactly where visitors are coming from.
◾ Competition Analysis
See how your website ranks among competitors in your business sector.
◾ NEW! Company Reveal
​​Discover which companies have been visiting your website via their business network provider.
𝗩𝗶𝘀𝗶𝘁𝗼𝗿 𝗕𝗲𝗵𝗮𝘃𝗶𝗼𝗿 𝗔𝗻𝗮𝗹𝘆𝘁𝗶𝗰𝘀
◾ Session Recordings
See video replays of real visitor sessions on your website and get an insight into what people click, their mouse movement, and how they scroll.
◾ Heatmaps
Create heatmaps for every page of your website and see at a glance which areas experience a lot or little visitor interaction.
◾ Conversion Funnels
Start analyzing your funnels, drop-out pages, and other pain points in the easiest and most configurable way.
◾ Custom Event Tracking
Track any action of your visitors! Check views & clicks on any image, button or other element on your website!
𝗩𝗶𝘀𝗶𝘁𝗼𝗿 𝗖𝗼𝗺𝗺𝘂𝗻𝗶𝗰𝗮𝘁𝗶𝗼𝗻
◾ Polls
Directly integrate poll bubbles on any page of your website & easily get access to replies and stats.
◾ Surveys.
Create complex surveys and send them to your participants on a separate URL.
𝗔𝗹𝗹 𝗳𝗲𝗮𝘁𝘂𝗿𝗲𝘀 𝗽𝗿𝗶𝘃𝗮𝗰𝘆-𝗳𝗶𝗿𝘀𝘁 𝗯𝘆 𝗱𝗲𝘀𝗶𝗴𝗻 𝗮𝗻𝗱 𝗳𝘂𝗹𝗹𝘆 𝗚𝗗𝗣𝗥-𝗰𝗼𝗺𝗽𝗹𝗶𝗮𝗻𝘁
◾ Data Protection & Privacy
TWIPLA meets all global data privacy requirements, regardless of the different data privacy legislation that will impact users in different locations. This includes the following key laws: GDPR, CCPA, PIPEDA, DPA.
◾ Cookieless Tracking
Respect for individual privacy and all privacy laws.
It is the only 100% accurate solution for tracking all user activity.
It offers more security by not storing data on user devices.
◾ Privacy Center
Platform can be calibrated to the local privacy rights of website visitors, with four levels of protection (Light, Medium, GDPR, and Maximum Privacy). With the default Light Protection mode, you comply with the regulations of most regions outside the EU.
With Maximum Protection, you are safeguarding your visitors' data to the fullest. Activate this mode, and you will be able to track website visits without worrying about including it in your cookie consent banners.
◾ NEW! Custom Country Data
Enables you to apply different Privacy Center modes based on where a visitor is visiting the website from. Customize the data processed for each visitor on a country-by-country basis, maximizing the data insight in the context of each country's legislation.
---
Key benefits of TWIPLA
WHY CHOOSE TWIPLA?
✔️Understand what is and isn't working on your website(s).
✔️ Enjoy the "free forever" plan that makes it easy for you to test drive, with zero commitment and pay as you grow.

✔️ Analyze website traffic stats — visitors, conversions, session duration, page visits, referrals, click paths, devices, bounce rates, time of visits, competition analysis, company reveal and more.
"𝙔𝙤𝙪 𝙖𝙧𝙚 𝙗𝙡𝙞𝙣𝙙 𝙬𝙞𝙩𝙝𝙤𝙪𝙩 𝙞𝙩!
𝘛𝘳𝘶𝘭𝘺 𝘢 𝘮𝘶𝘴𝘵-𝘩𝘢𝘷𝘦, 𝘪𝘵 𝘱𝘳𝘰𝘷𝘪𝘥𝘦𝘴 𝘥𝘦𝘵𝘢𝘪𝘭𝘦𝘥 𝘪𝘯𝘴𝘪𝘨𝘩𝘵 𝘪𝘯𝘵𝘰 𝘺𝘰𝘶𝘳 𝘢𝘶𝘥𝘪𝘦𝘯𝘤𝘦 𝘵𝘩𝘢𝘵 𝘨𝘪𝘷𝘦𝘴 𝘺𝘰𝘶 𝘢 𝘭𝘰𝘵 𝘰𝘧 𝘱𝘳𝘦𝘤𝘪𝘰𝘶𝘴 𝘪𝘯𝘧𝘰 𝘢𝘵 𝘢 𝘨𝘭𝘢𝘯𝘤𝘦. 𝘝𝘦𝘳𝘺 𝘸𝘦𝘭𝘭-𝘥𝘦𝘴𝘪𝘨𝘯𝘦𝘥 𝘢𝘯𝘥 𝘦𝘢𝘴𝘺 𝘵𝘰 𝘶𝘴𝘦 𝘵𝘰𝘰."

✔️ Understand visitor behavior in real-time — session recordings, heatmaps, conversion funnels, and event tracking.
✔️ Receive visitor feedback effortlessly — targetable surveys and polls.
✔️ No cookies for tracking data. 100% GDPR & CCPA compliant tracking. No data passed on to third
Parties.
✔️​​ Very Low Impact on Website Speed - 25kb Condensed Snippet
✔️​​ Exceptional customer support.
"𝙏𝙝𝙞𝙨 𝙞𝙨 𝙩𝙝𝙚 𝙢𝙤𝙨𝙩 𝙥𝙤𝙬𝙚𝙧𝙛𝙪𝙡 𝙩𝙤𝙤𝙠 𝙩𝙝𝙖𝙩 𝙚𝙖𝙧𝙡𝙮 𝙨𝙩𝙖𝙜𝙚 𝙗𝙪𝙨𝙞𝙣𝙚𝙨𝙨 𝙣𝙚𝙚𝙙.
𝘛𝘩𝘦 𝘢𝘱𝘱 𝘭𝘦𝘵𝘴 𝘺𝘰𝘶 𝘶𝘯𝘥𝘦𝘳𝘴𝘵𝘢𝘯𝘥 𝘷𝘪𝘴𝘪𝘵𝘰𝘳 𝘣𝘦𝘩𝘢𝘷𝘪𝘰𝘳 𝘵𝘰 𝘵𝘩𝘦 𝘷𝘦𝘳𝘺 𝘥𝘦𝘵𝘢𝘪𝘭. 𝘉𝘦 𝘪𝘵 𝘴𝘪𝘵𝘦 𝘳𝘦𝘤𝘰𝘳𝘥𝘪𝘯𝘨𝘴, 𝘧𝘶𝘯𝘯𝘦𝘭, 𝘩𝘦𝘢𝘵𝘮𝘢𝘱𝘴 𝘢𝘯𝘥 𝘴𝘰 𝘮𝘶𝘤𝘩 𝘮𝘰𝘳𝘦. 𝘛𝘩𝘦 𝘴𝘶𝘱𝘱𝘰𝘳𝘵 𝘵𝘦𝘢𝘮 𝘪𝘴 𝘢𝘣𝘴𝘰𝘭𝘶𝘵𝘦𝘭𝘺 𝘢𝘮𝘢𝘻𝘪𝘯𝘨. 𝘛𝘩𝘦 𝘢𝘳𝘦 𝘷𝘦𝘳𝘺 𝘳𝘦𝘴𝘱𝘰𝘯𝘴𝘪𝘷𝘦 𝘢𝘯𝘥 𝘩𝘦𝘭𝘱 𝘺𝘰𝘶 𝘳𝘦𝘴𝘰𝘭𝘷𝘦 𝘢𝘭𝘭 𝘪𝘴𝘴𝘶𝘦𝘴 𝘪𝘯 𝘵𝘩𝘦 𝘣𝘦𝘴𝘵 𝘱𝘰𝘴𝘴𝘪𝘣𝘭𝘦 𝘸𝘢𝘺. 𝘓𝘰𝘷𝘦𝘥 𝘵𝘩𝘦 𝘴𝘶𝘱𝘱𝘰𝘳𝘵 𝘵𝘦𝘢𝘮!"
✔️ For website owners, digital marketers, and demand specialists — for websites that work smart.
✔️ Available in English, German, French, Italian, Portuguese, Spanish.
HOW OTHER PEOPLE USE TWIPLA
The first step is understanding who your visitors are and what they want. TWIPLA makes that easy with simple yet powerful analytics tailored for any website.
See where people come from with Traffic Structure. Is it direct visits, organic search, social media? That shows where to focus your marketing time and money.
Learn what content resonates in top Pages. See the report on which pages and posts get the most visits. See what content keeps people engaged on your site.
Check Devices to see how many use desktop, tablet or mobile. Make sure your site looks great on every screen size you need to support.
Add UTM Campaigns to your links to see which promotions bring the most visitors. Find out what works to get more clicks. Double down on what works to boost traffic and revenue.
See hotspots on your pages with Heatmaps showing where people click and scroll. Make sure key info stands out.
Watch Session Recordings of real visitor sessions to see how people navigate your site. See confusing pages and broken user flows, then fix them.
Get quick feedback with Polls right on your site. Ask about preferences, needs and opinions and see what people think and what they want.
Send in-depth Surveys after purchases, downloads, etc. Learn how to improve products, content and services from customer data.
​​Adjust Privacy to be transparent and comply with laws in each country like GDPR. Build visitor trust by putting their needs first.
Stop guessing and start growing with TWIPLA. Understand your audience, optimize your site, and take the guesswork out of marketing. Sign up today!
---
Images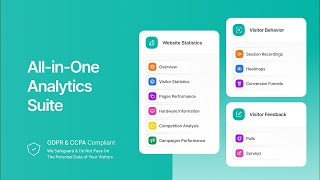 Not sure about TWIPLA?
Compare with a popular alternative
NetSuite
#1 Alternative to TWIPLA
NetSuite provides organizations with an integrated system of cloud applications that helps them run their business....
Google Forms
#2 Alternative to TWIPLA
Google Forms is a free form builder tool that enables users to create surveys and questionnaires online in order to...
WebCEO
#3 Alternative to TWIPLA
Web CEO is cloud-based Search Engine Optimization (SEO) software with White-Label tools and reporting features for site...
iCIMS Recruit
#4 Alternative to TWIPLA
Streamlined, real-time and able to meet your most challenging recruitment needs, iCIMS applicant tracking software...
---
Already have TWIPLA?
Software buyers need your help! Product reviews help the rest of us make great decisions.
Showing 5 reviews of 386
Industry: Professional Training & Coaching
Company size: 11–50 Employees
Used

Daily

for

2+ years

Review Source
Overall rating
Value for Money

Ease of Use

Customer Support

Likelihood to recommend

10.0

/10
A convenient and reliable platform for web statistics analysis
Reviewed on 11/07/2022
Amazing. The experience has been amazing. Am glad i made the decision to implement it. It really...
Amazing. The experience has been amazing. Am glad i made the decision to implement it. It really works and has met all the requirements i implemented it to achieve. It has made it easier to determine the success of the website by analyzing how the audience is reacting to the website content.
Pros
First the platform is super cool and easy to use. Every function is clearly located at an easy to access place on the dashboard. The support offered is also amazing, from conducting demos to timely responses, the support team is very helpful. It gives real time insights about how the audience is relating to the content in the website. This includes the specific content that the audience are mostly accessing. Another exciting feature is the session recordings function that gives a clear picture of how the audience scrolled through the website and the icons that they click. The polls and surveying feature helps gather audience feedbacks on the content available in the website. The platform is secure and no worries of data leakages through hacking or unauthorized access.
Cons
For the time i have used Visitor Analytics, i never encountered a major drawback either on the usability or the quality of features available.
Industry: Music
Company size: 2–10 Employees
Used

Daily

for

1-5 months

Review Source
Overall rating
Value for Money

Ease of Use

Customer Support

Likelihood to recommend

9.0

/10
Very comprehensive!
Reviewed on 25/07/2019
Pros
The dashboard gives a quick & easy overview of site visitors, including live updates by day, week, month or forever.
Cons
I'm not keen on the red colour for the "negative" stats! Reminds me of school too much...
Industry: Performing Arts
Company size: Self Employed
Used

Daily

for

2+ years

Review Source
Overall rating
Value for Money

Ease of Use

Likelihood to recommend

2.0

/10
Meh. It's okay. Too many pop up offers.
Reviewed on 14/07/2022
I do like that I can track where in the world my traffic comes from. I also really enjoy seeing if...
I do like that I can track where in the world my traffic comes from. I also really enjoy seeing if someone is a repeat visitor. I regret spending the extra money to be able to have recordings available. When I signed up for that perk, I got only a few recordings, and then nothing more. Not worth the money; it's not easy to understand how to get the all recordings I paid extra for.
Pros
I really enjoy being able to see the approximate location of people looking at my site. I also like how many ways in which analytics analyzes traffic patterns.
Cons
There are actually too many bells and whistles with the current updated version. It was easier to navigate before.
Industry: Food & Beverages
Company size: 51–200 Employees
Used

Weekly

for

1-5 months

Review Source
Overall rating
Value for Money

Ease of Use

Customer Support

Likelihood to recommend

10.0

/10
Best Web Analytics Software
Reviewed on 03/02/2020
Pros
Visitor Analytics is by far the easiest web analytic software to use and setup compared to others. It automatically starts tracking important demographics and other information without having to set up different dashboards and what you want to track.
Cons
Some of the features require a higher subscription when at the time I started using the software I had the highest tier there was.
Industry: Research
Company size: 5,001–10,000 Employees
Used

Daily

for

1+ year

Review Source
Overall rating
Value for Money

Ease of Use

Customer Support

Likelihood to recommend

8.0

/10
Good for personal website
Reviewed on 16/04/2020
Pretty good, no "deal-breaker" complaints.
Pretty good, no "deal-breaker" complaints.
Pros
The free version of this product has all the basic features I need for my personal website. Since I don't get a huge number of visitors, the "latest visitors" section in the free version, which shows only a few of the most recent visitors, is sufficient to give a rough idea of what pages people are looking at on my site. (The paid version gives an exact breakdown of pages visited over a select time period, which is very useful, but costs money of course.) In general, the interface is simple and it's nice that the free version basically does what I need.
Cons
The subscription is expensive for personal use. Maybe it could be justified for a business, but it includes features that an individual like me doesn't need for their personal webpage. So it would be nice to have different subscription options or the ability to select features at a "per-feature" price.
Customer support was quick and responsive, but didn't give super clear answers to my questions.
TWIPLA FAQs
Below are some frequently asked questions for TWIPLA.
Q. What type of pricing plans does TWIPLA offer?
TWIPLA offers the following pricing plans:
Starting from: US$12.99/month
Pricing model: Free Version, Subscription
Free Trial: Not Available
Up to 100,000 visits/month
Q. Who are the typical users of TWIPLA?
TWIPLA has the following typical customers:
Self Employed, 2–10, 11–50, 51–200, 201–500, 501–1,000, 1,001–5,000
Q. What languages does TWIPLA support?
TWIPLA supports the following languages:
Brazilian Portuguese, Chinese, Czech, Dutch, English, European Portuguese, French, German, Indonesian, Italian, Korean, Portuguese, Romanian, Spanish, Swedish, Thai
Q. Does TWIPLA support mobile devices?
TWIPLA supports the following devices:
Q. What other apps does TWIPLA integrate with?
TWIPLA integrates with the following applications:
Drupal, Joomla, October CMS, TYPO3, Wix, WordPress
Q. What level of support does TWIPLA offer?
TWIPLA offers the following support options:
Email/Help Desk, FAQs/Forum, Knowledge Base, Chat
Related categories
See all software categories found for TWIPLA.